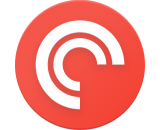 We got a note from Pocket Casts that two in-app discovery features we've been waiting for became active today. They are Guest List (favorite podcasts of a guest curator) and Network Highlight (a selection of one network's catalog).
We were especially looking forward to the Guest List, because we like knowing what celebs (major or minor) are listening to, and we hope for quirky picks. Pocket Casts' fir guest curator is Marques Brownlee, known also by his YouTube moniker MKBHD — his YT tech-reviewing show is a smart and beautifully produced weekly installation that has 10-million followers.
Perhaps unsurprisingly Margues's guest list contains a few techy shows — The Vergecast, Recode Decode, and Reply All. The 11-podcast list also has interview programs: That Creative Life, Pull Up with CJ McCollum, and The Joe Rogan Experience. We were disappointed by the mainstream-ness of his choices … do we really need guest curation to learn about Joe Rogan, The Verge, and Recode Decode? We also thought that putting in his own podcast (Waveform) was self-serving, but whatever. More to that last point, we discovered that many of the other podcasts had featured Marques as a guest at some time. So this felt like more self-promotion than we expected, and we hope for guest curators in the future whose podcast advocacy goes beyond shows connected to their business. This potentially great feature should be about general discovery, and getting to know the guest's personal taste.
The Network Highlight is accompanied by a big graphic representation of Wondery shows. The list includes familiar titles: the Vanished Podcast, Business Wars, Sports Wars, The Next Big Idea, Life is Short with Justin Long, and five others. Wondery produces exceptional listening experiences, and this appears to be effective exposure for some of the network's top shows. We are assured by a spokesperson that this feature is not a sponsored placement.
Pocket Casts is enjoying the glow of a recent redesign. It looks and feels great IOHO (in our humble opinion). We think the curated lists are a good idea, especially the Guest List. We look forward to the next with recharged hope.