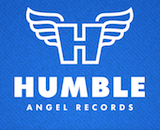 Kieron Donoghue has launched an independent record label with a focus on streaming. Humble Angel Records will pay its artists monthly and aims to offer contracts with "at least double the average" of royalty rates from the majors. Donoghue is placing a focus on transparency and an equal playing field.
"It's no longer about who you know or how many social media followers you have," he said, explaining that he guarantees to listen to all submitted songs. "We believe a good song can come from anywhere."
He didn't share details, but also prioritized getting correct royalty payments made to stakeholders. "If there are writers, producers or any other partners who are due a percentage of royalties, then our back office system will handle that automatically and pay them directly each month," he said.
Donoghue's last position was as VP of global playlist strategy and curation for Warner Music. He joined the major after it acquired Playlists.net, which he founded, in 2014. During his Warner tenure, Donoghue helped launch and lead a streaming-only label called Artists to Watch.