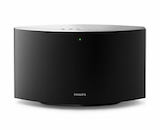 Philips announced the launch of multi-room speakers designed specifically to stream music from Spotify. The Philips Spotify speakers use Spotify Connect to control the music from within the Spotify app on a mobile device. Just press the Spotify button on any of the speakers and the stream should immediately transfer over.
There are two models of the Philips Spotify speakers, and up to four of them can be grouped together to play the same music at the same time. The speakers can also be kept separate so that different people can listen to their own tunes in different rooms. The SW700M has a suggested retail price of $129.99, while the SW750M is likely to pull in $179.99. They're slated to launch in North America this spring.
WiFi speakers supporting streaming audio platforms has been a big trend coming out of CES this year. LG announced the competitively priced Music Flow, Qualcomm is bringing its AllPlay universal streaming system to commercial hardware, and even Google got in on the action with the announcement of Google Cast.