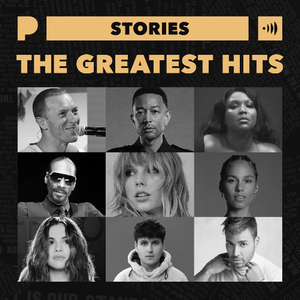 Pandora Stories is a music/spoken-word hybrid product which pairs songs with artist recollections. In most cases the artists talks for 30-60 seconds about the song's history (that's the story part), and then comes the song.
Pandora has now produced 1,000 of these stories. To celebrate, the streaming service has created a "The Greatest Hits" compilation, which by our count has 24 of the pairings. (LISTEN HERE with any type of Pandora account.)
Here is the story contributed by The Lumineers for their song Ho Hey:
A few highlights provided by Pandora:
John Legend confesses that his massive hit "All of Me" was inspired by Billy Joel's 70s smash "Always a Woman."
Katy Perry reveals the secret way she hits those high notes.
Mark Ronson recounts his fateful first meeting with Amy Winehouse.
Lizzo tells the tale of the dramatic hair flip that inspired "Good as Hell."
Snoop Dogg shares the recipe for "Gin & Juice."
Coldplay's Chris Martin recalls how "Yellow" went from Neil Young parody to the band's breakthrough hit.
Plus selections from other stories with Lewis Capaldi, 2 Chainz, The Lumineers, Common, Mary J. Blige, Selena Gomez, Hozier, Alicia Keys, Vampire Weekend, Perry Farrell, andPrince Royce.
These are stars, of course, by any creator who uses the AMP Creator Platform can create a story to pair with a song.
.