The Interactive Advertising Bureau has released its report on digital advertising trends from the first half of 2017. In it, streaming music apps illustrate extraordinary usage, especially in the time-spent metric. Pandora's mobile listening app lands in third place in this study, behind Google and Facebook. Spotify takes the fourth spot, and iHeartRadio the 10th.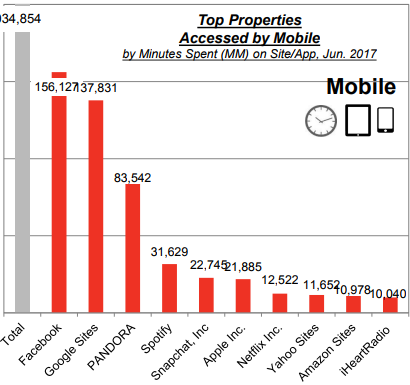 Look at the chart above, and let's do some arithmetic. Adding up the mobile minutes spent in all three music apps combined (125-billion minutes), we can see that time spent with music streaming nearly equals time spent on all of Google's mobile sites (138-billion). Streaming audio amounts to much more time spent than Snapchat, Apple, Netflix, Yahoo, and Amazon combined. (Apple and Amazon have their own music services which are not broken out here.)
This is a remarkable illustration of streaming music's penetration in the mobile lives of consumers, and it represents only the three top stand-alone brands.
Beyond music, the IAB's wide-ranging and detailed data set shows digital audio ad revenue for H1 2017 in all categories increased 46% to $603 million, and three-quarters of that total stemmed from mobile. Mobile remains a potential source for ad revenue, as the report showed that 58% of U.S. adults never pay for mobile apps, meaning a large audience for mobile advertising.
In June 2017, 253 million Americans access the Internet on computers of mobile devices for a total of 1.3 trillion minutes spent online. Mobile accounted for 860 billion minutes online, or 66% of the total online time. Advertising is making a corresponding shift, with 54% of digital ad revenue in the first half coming from mobile advertising. Year over year, digital ad revenue increased 23% to $40.1 billion in the first half of 2017.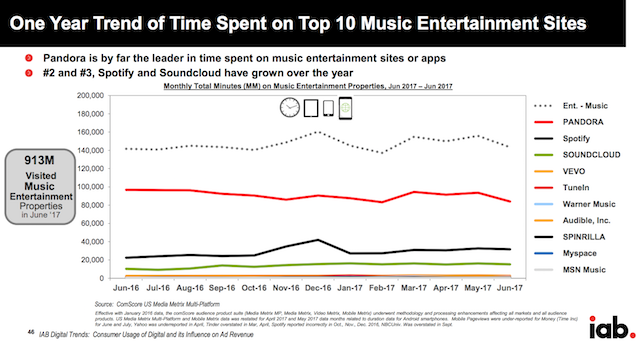 Facebook and Google are the top properties for both mobile and desktop use, but audio streaming still delivered a strong performance. Pandora placed third for amount of time spent in online properties on mobile behind those two web juggernauts. Spotify was fourth and iHeartRadio ranked tenth. When assessing top apps by number of unduplicated monthly unique visitors, Pandora was sixth and Spotify was twelfth.
The IAB also examined the top 10 music entertainment properties, which had 913 million visitors in June 2017. Pandora topped the list, followed by Spotify and SoundCloud.
One note on context: the report did lump together all sites and apps from some of the larger tech sites. That means the listings would be simply for "Apple Inc" with no separate breakdown of data for just Apple Music, for instance. The streaming audio results do still present a relative picture about the performance for independent properties.