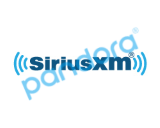 Pandora and Sirius XM have closed the strategic investment announced in June. Sirius XM has purchased 307-million Series A shares of P stock for a $480-million investment in the internet radio firm.
At the same time, Sirius execs James E. Meyer (CEO), David J. Frear (CFO) and Gregory B. Maffei (Chairman) joined the Pandora board. Elizabeth nelson left the board, leaving nine directors.
Sirius may choose to redeem its stock in five years.
Today's announcement completes a deep shake-up of Pandora's leadership and strategy. Many observers predicted that Sirius XM would acquire Pandora outright. While that didn't happen, Sirius does now own 19% of Pandora, and Greg Maffei is now Chairman of both companies. It is an understatement to say the two companies are joined at the hip.
A change of strategy was started when this deal was first announced, at the same time that Pandora founder Tim Westergren stepped down from the CEO position he had assumed less than two years before. Pandora Premium, the interactive music service which had been central to Westergren's strategy, was quickly back-burnered. In the last earnings call Pandora clarified that the service would continue to operate, while the company put its strongest focus on the non-interactive advertising side of Pandora radio, now regarded as the bigger opportunity. It is also better aligned with Sirius XM's business.