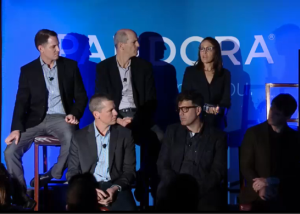 There's plenty of swirl today about Pandora's remarks at the company's Investor Day event last week, during which CFO Mike Herring answered an investor's question about Spotify and on-demand services. Most headlines are simplifying the exchange to mean that Pandora is "considering" getting into the on-demand business, competing directly with Spotify, Rhapsody, and Beats Music. Those headlines are not unfair, but there is important context around the exchange.
The question was whether, in "any scenario," Pandora would consider mounting an on-demand service, like Spotify. Mike Herring's reply was open-minded and non-committal:
"There's definitely desire to look at ways to add features and functionality to Pandora. Whether it gets to some sort of on-demand, all-you-can-eat model like Spotify or Beats … whether we do that is a decision we'll make down the line. It depends on what products we need to serve the needs of different markets, in order to optimize our ability to drive revenue and serve the user's needs."
Fair enough, and a bit tantalizing. It's worth noting that the conversation came in context of questions about Pandora's potential expansion to new regions outside of its current US/Australia/New Zealand footprint. In that recurring conversation, talk always turns to dealing with record labels directly to acquire music, rather than the U.S. system of statutory, blanket licensing. Pandora has already accomplished significant content acquisition deals with labels, most famously an agreement with Merlin, and international group of non-"major" labels.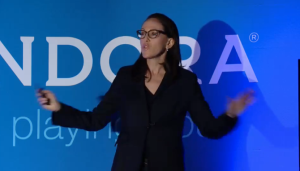 After Mike Herring's remarks, Chief Strategy Officer Sara Clemens added this, bringing the context back to international expansion:
"As we enter international markets, we see an opportunity to push up the funnel. To take the scaled audience and create new monetization mechanisms with them, working with labels to create new features. We think there's a gap between on-demand at one end, and what we provide at scale across a much larger audience. It's much easier to convert someone who is already in the funnel, to create economic value from them. We think we're well positioned to address that as we have conversations with labels."
The "gap" between lean-back online radio (powered by statutory licensing) and lean-forward on-demand platforms powered by direct licensing, is an interesting concept. It seems to be looking in the direction of Spotify Free, an ad-supported program that has some interactive features. Spotify Free has endured criticism from artists (notably Taylor Swift) for putting too much free-of-charge interactivity in consumers' hands. It is intended to funnel users up to Spotify's subscription plan. Pandora's hypothetical funnel starts with non-interactive radio-style listening, and potentially funnels upward to unspecified new features.
None of Pandora's open-minded specculation arose two days before, when Mike Herring spoke at the Raymond James investor gathering. The distinction between non-interactive listening and on-demand service came up in that Q&A, too. "Fundamentally, we go after radio," Herring said to that group. "Only 14% of the U.S. market is predisposed to pay more than $20 annually. That's why we've stayed focused on our core market, which is radio, versus moving into the on-demand space."
In its legal stance during the "Webcaster IV" rate-setting arguments moderated by the U.S. Copyright Royalty Board, Pandora draws a clean, untouchable line between statutory services (like Pandora) and non-statutory services (like Spotify). Whereas legal opponent SoundExchange argues that non-interactive and interactive services are bleeding together, and should be considered in the same rate-setting framework, Pandora asserts that they are entirely different use cases representing different consumers. The last thing you'd imagine, after reading Pandora's legal briefs, is that the company would cross that line anytime soon.
Will Pandora ever construct a Spotify-like service? Anything is possible, but it would not be the company's core competency, built up over nearly a decade. More likely, Pandora will continue engaging record labels in licensing discussion outside of the statutory framework, and cautiously develop features designed to coax more revenue value from its 250-million registered users.