Pandora's new Definitive Guide to Audio is a glossy pictorial presentation, embedded with new research stats about streaming listeners and best practices for digital audio advertisers marketing to those listeners.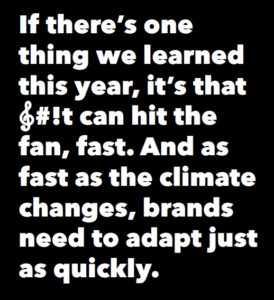 The presentation opens with a kind of "OMG, pandemic!" tone. Pandora says that it's a catalyst for change — for the company, the industry, and for marketers. Unsurprisingly, Pandora advocates for music, and for streaming. The attitude seems a little antique for 2020: "Ever heard of this little thing called streaming"? We get the wink, but that's a remark whose slyness would play better 10 years ago.
New Info
Anyway, in support of streaming's popularity, Pandora partnered with OMG Research and Edison Research to discover new stats. Chief among them:
66% have used a streaming audio service, and 78% have used a streaming video service like Netflix.
1 in 2 U.S. adult streamers are 18-44 years old.
9 in 10 streamers enjoy both audio and video streaming.
35% of streamers are multicultural.
Streaming audio (when compared to streaming video) is 23% more likely to put listeners in a good mood, 19% more likely to make them feel more connected, 40% less likely to make them feel lazy.
Misconception: people pick either paid subscriptions or ad-supported content. In reality, most consumers freely toggle between the two. 59% of paid audio subscribers also listen to ad-supported audio.
There are too many metrics to cover them all, but we notice one interesting tidbit: Growth in daily time spent listening has occured mostly on the computer — 54% vs. only 4% in mobile. That quirk is probably due to the shelter-at-home lifestyle governing most of 2020 in the U.S.
The P-word
The pandemic didn't affect only the publishing side; Pandora notes that advertising had its own "OH $#!T" moment in "a global pandemic that brought everything crashing down." Even so, there has been a shift from linear to digital, with +6% year-over-year in digital advertising while traditional ad venues dropped 30%.
There is a pitch for programmatic in this guide. Citing eMarketer research, Pandora notes that programmatic transactions will make up 84.5% of the display market, including digital audio and podcast ads, by end of 2020. Of course, automated buying of dynamically inserted ad campaigns to targeted audience segments is more common in display marketing than in audio, but we take the broader point.
Audio Branding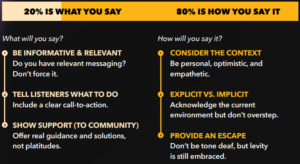 "Like a good neighbor…" If you finished that sentence in your mind, you proved Pandora's point about sonic strategy and audio branding. (The answer is "…State Farm is there." Don't just say it. Sing it.) Pandora has long emphasized the creative studio efforts it lends to brands, and doubled down in that department with the hiring of audio ID expert Steve Keller in March, 2019.
Along that same direction, one key best practice Pandora advocates in this guide is: "20% is what you say. 80% is how you say it."
And Finally…
Predictions? Pandora has a few takeaways for the future:
Addressability and first party data. In Pandora's case this mean that the company's immense trove of understanding about its users is the key dataset.
Fewer, bigger and better partnerships
Nimbleness, shorter-term planning cycles — an outcome of a newly unpredictable world.
Get the free guide HERE.