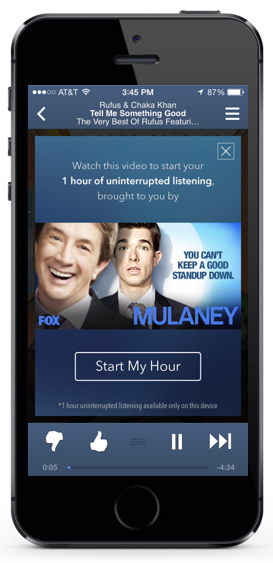 Pandora's Sponsored Listening program, which began a beta launch period last October, emerges today as a full-throttle marketing opportunity for all advertisers. Sponsored Listening allows Pandora listeners to engage with an advertisement in exchange for an hour of commercial-free listening.
"What's good for the listener is good for the advertiser," Pandora's Lizzie Widhelm told RAIN News last October. Widhelm is VP of Digital. The double message of listener value and advertiser value runs through today's announcement, too. "Pandora Listeners Receive More Uninterrupted Hours" is the headline. At the same time, the program is designed to help marketers grab the attention of listeners in a premium listening experience.
We caught up with Lizzie Widhelm today to discuss the launch of Sponsored Listening out of beta, and asked about results during the testing period.
"During the beta we were most focused on creating value on the listener, with a continued focus on 'what's good for the listener is good for the advertiser'," Widhelm said. "We wanted to make sure that attention and engagement, which advertisers were looking for, were delivered." She reported a 12% lift in brand awareness and a 30% lift in purchase intent, noting that each marketer has its own Key Performance Indicators (KPIs), which the company does not quote.
When the program was first introduced, only a limited number of users saw Sponsored Listening. with today's extension to all advertisers, all Pandora users will likewise be exposed to opportunities to gain commercial-free hours, if their personalized listening triggers a Sponsored Listening ad.
Lizzie Widhelm mentioned that new types of ad creative are available now. "In the beta we started with video, with a 15-second watching requirement. We have expanded to rich media, which opens a whole new range of opportunity for advertisers."
In last week's quarterly earnings report, Pandora claimed 79.6-million monthly listeners. A small sliver of that population (about 3.5-million) subscribes to the non-commercial plan, called Pandora One. Pandora's strategic imperative is to compete with traditional radio on its own terms, as a free-listening, ad-supported audio experience.
The beta period of Sponsored Listening was tested by select advertisers including Fox, Sony, and Land Rover. New advertisers as the program moves into general availability include beverages Corona Extra, Gatorade, and Yuengling.