In a conference call yesterday, Pandora reported that its total revenue for the fourth quarter of 2014 was $268 million. That figure included $47.9 million from subscription (and miscellaneous) revenue, up 24% from last year, and $220.1 million from ad revenue, which rose 36%.
The company's net income for the quarter was $12.3 million, or 6 cents per share. Analysts predicted earnings of 18 cents per share on revenue of $276.5 million. At mid-day today, investor disappointment had driven down Pandora stock (P) by 16%.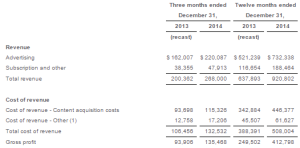 The company also released data for the full 2014 fiscal year. Annual revenue increased 40% from 2013 to $906.6 million, comprised of $732.3 million in ad revenue and $174.3 million from subscriptions and other revenue sources. Pandora also posted a net loss of $30.4 million, or 15 cents per share. Even though it wasn't able to turn a profit, the loss was smaller than the $40.7 million one posted in 2013.
While the financial figures didn't rise as far as analysts expected, Pandora did have good growth in users. The headline there is in the much-scrutinized "active listeners" metric (number of unique listeners per month), which reached 81.5-million — the first meaningful growth in that department for several months. Pandora CEO Brian McAndrews attributed the audience growth to "conscious efforts to drive usage through marketing spend and product features such as station recommendations and notifications." We can verify anecdotally that Pandora is sending notifications more frequently than before.
Holiday listening also might have bumped the December count of active listeners; McAndrews observed that a new single-day record was attained on Christmas Eve — 30-million unique listeners. The CEO also issued seasonal guidance pertaining to audience size: "While our listening metrics benefited from seasonality in Q4 […] we expect the normal seasonal declines in Q1."
Pandora has frequently issued a privately calculated estimate of U.S. radio listening share, and that number is inching toward 10% — 9.7% in December, according to McAndrews. When it comes to Internet radio share (examined through the lens of Triton Digital's Top 20 Ranker report), Pandora owns a fat slice closer to 80% — 79.2%, said McAndrews.
McAndrews noted the revenue prediction shortfall which missed company guidance for Q4 2014, but noted a crucial ratio often disregarded in coverage of Pandora earnings: RPM (revenue per thousand hours) which struck a new high of $48.19. McAndrews cited holiday advertising weakness as representing half of the shortfall. Of course he remained upbeat in his long-term optimism, and explained that local advertising grew 90% year-over-year. Local now owns 23% of total ad revenue. Advertising as a whole was 66% of revenue.
Pandora also issued new guidance, projecting revenue between $220 million to $225 million in the first quarter of 2015, and between $1.15 billion to $1.17 billion for the 2015 fiscal year. McAndrews acknowledged that 2015 is an "odd year," with music licensing rates for the 2016-2020 period unknown until December. That major cost item is obviously a crucial unknown that could make investors cautious. "We are very confident in our position in the CRB proceeding," the chief executive said.
In the inspirational rhetoric department, Brian McAndrews said this: "2015 is not a year a caution, it is the year of conviction."