Pandora published an article (3 Things You Need to Know About Buying Digital Audio) that is both a response to recent comScore audience measurement numbers, and part of a continuing competition with Spotify for marketing dollars spent by advertisers to reach online radio listeners.
"The road to making smarter media buying decisions starts with understanding your audience," the piece opens. "And even more important, is knowing the difference between an addressable and non-addressable audience." A Pandora spokesperson told RAIN News that the article was inspired by reviewing last week's comScore audience report, which showed Spotify owning 53-million U.S. listeners. (Spotify has nearly as many non-U.S. listeners, but Pandora's analysis is concerned only with the U.S. advertising market.)
From that 53-million number, Pandora estimates that about 20-million are paying subscribers to Spotify Premium, which is a no-advertisement plan, leaving 33-million listeners as the addressable U.S. market for advertisers. While that is an estimate, Pandora is keen for advertisers to understand a basic difference between total audience and addressable audience.
By way of contrast, Pandora observes that most of its own audience footprint is piled into the ad-supported service — 81-million listeners. (Another 4-million users pay a monthly membership in Pandora One, which eliminates the advertisements, and that subset is non-addressable.)
As streaming audio advertising matures, and awareness of its unique qualities grows in the media buying community, major music services are engaged in information campaigns that promote their large audiences and big data operations. Heidi Browning, SVP of Strategic Solutions at Pandora, told RAIN News that there is some confusion in the deluge of audience metrics released by digital audio services. While discussing the addressable audience issue as it pertains to Pandora and Spotify, she also observed that iHeartRadio cites registered users as a key metric, rather than monthly (or "active") users.
"People are trying to understand differences among the services," Browning said. "When advertisers are making a decision about who they can actually reach, they need to ask the question, 'Who is an active listener, and who has the ability to be served an advertisement'."
In addition to driving home its point about addressable audiences, Pandora took the opportunity to reveal data from the Share of Ear research project produced by Edison Research, for Q1 of this year. That report (which is fully available only to Share of Ear subscribers), showed Pandora winning the feeding frenzy for 18-34 Millennial listeners in the Time Spent metric: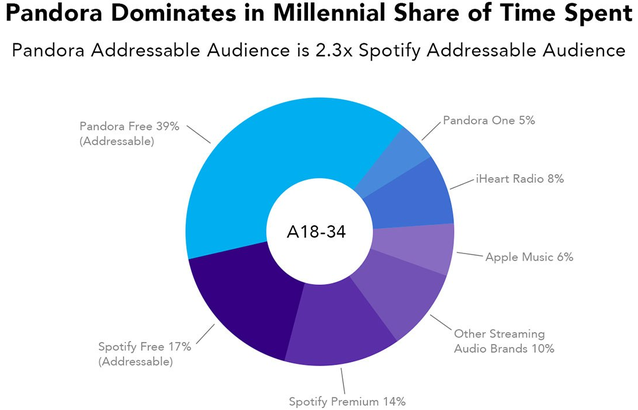 The metric above is different from relative audience sizes, and is about share of time spent listening. The report showed Pandora Free (the ad-supported service) leading the field of streaming audio services.
"People are making a shift from terrestrial to personalized digital audio," said Heidi Browning. "That seems to be the future, and that's where we want advertisers to understand the opportunity."