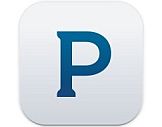 Pandora has launched a new native app for the Apple TV. The program brings the core Pandora features of managing, creating, and listening to radio stations to the Apple hardware.
The Apple TV poses an interesting challenge in the living room entertainment space. The tech company has its own streaming product in Apple Music, and there has been speculation about which, if any, rivals might show up on its hardware. Mixcloud, YouTube, and Vevo were early arrivals on the Apple TV, but Pandora holds a much more threatening brand reputation and audience. Pandora's lean-back listening is a direct competitor to the Beats 1 project, but with its recent acquisition of assets from Rdio, the company has said it plans to add an on-demand component.
It will be interesting to watch whether (and when) other top dogs in streaming will be making debuts on the Apple TV.