Adding to our takeover newsletter coverage yesterday of The Infinite Dial 2020, we will indulge in some pinpoint recognition of interesting results. The Infinite Dial is the leading consumer survey of how Americans listen.
Listening in the car is a key part of the Infinite Dial package. We noticed that "owned music" enjoyed the greatest growth as the audio source used most often in the car: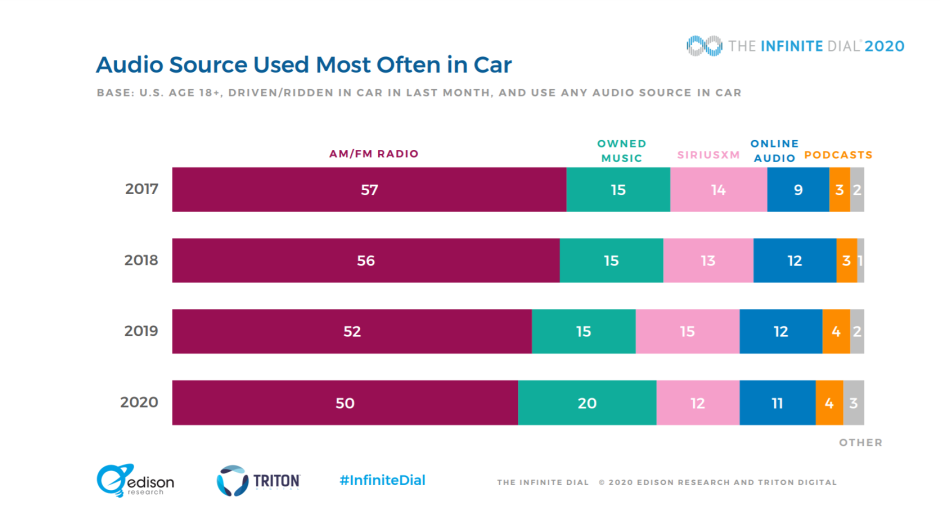 Note the whopping 33% growth in owned  music — as AM/FM radio, Sirius XM, and online audio all drop a bit year-over-year. The result is remarkable inasmuch as music downloads (presumably the main source of owned music) has been dropping year after year according to the RIAA reports.
It is true that people who enjoy keeping private, locally stored, non-cloud music collections have probably been collecting for many years. If so, RIAA trends probably apply less to them than within the larger context of total U.S. music industry revenue. Still, the chart implies a transfer from the declining categories which represent newer trends.
We can offer that our experience with in-car streaming solutions, from Bluetooth to Android Auto, are persistently gnarly and inconsistent. (Even AUX IN has volume normalization issues.) So perhaps ease-of-use can explain the graph above for now.
Only about 364 days to Infinite Dial 2021, to see whether the trend holds, or is (was) an anomaly.