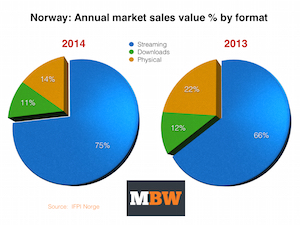 A recent IFPI survey revealed insights into the music industry in Norway. The survey found that streaming secured a larger portion of the country's annual market sales value at 75%. Downloads were just 11% and physical formats were 14%. In 2013, streaming accounted for just 66% of the market, and physical sales had a 22% share.
"We are only in streaming's infancy, and that we will probably see major changes in the coming years," said Marte Thorsby, managing director for IFPI Norge. "Younger audiences are using streaming services to the greatest extent. When older audiences [start] embracing these services we will probably see a somewhat different distribution of revenues."
Another interesting takeaway from the December 2014 survey was the small amount of illegal downloading in the country. Only 4% of Norwegians younger than 30 used illegal file-sharing service to obtain music, and less than 1% said those sites were their main music source. In 2009, 80% said they used illegal file sharing.