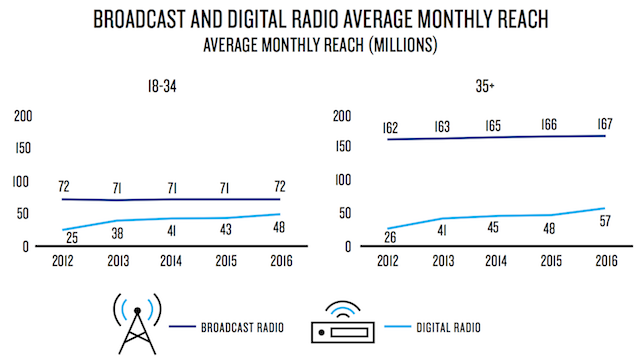 Nielsen is running a report series focused on Millennials, the frequently coveted demographic aged 18-34. The latest edition examines how this group uses digital communication and entertainment. Other Nielsen research has pointed to a different breakdown in how Millennials use media, with much less time spent watching TV or listening to radio than older generations, and this new data set reinforces that trend.
Average monthly reach for broadcast radio has stayed steady for both Millennials and the older respondents, although the audience is 167 million for 35 and up and 72 million for Millennials. Both groups have shown a steady rise in the average monthly reach for digital radio. Average monthly reach for digital radio is 48 million among Millennials and 57 million for 35+ respondents. Although radio has a smaller share of Millennials' media diet, the bracket spends the same amount of time tuned in as they did a year ago.
Streaming has been steadily gaining popularity in the U.S. audience, and Millennials are driving some of that success. In addition to being early adopters of the tech, Millennials are more likely to use several platforms. As of September 2016, 57% of Millennial respondents said they use two or more apps for music streaming, compared with 39% for older participants.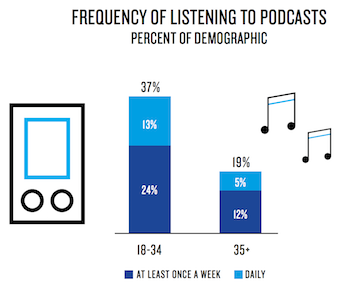 Nielsen also shows that Millennials are heavier users of podcasts. Millennials reported 24% listening to the format at least weekly and 13% listening daily. For the 35+ group, the rates were 12% weekly and 5% daily.
Millennials spent 78 billion minutes on their smartphones in an average week during Q1 2017. Among the 35-49 age group, the average rate for that period was 73 billion minutes a week. That equates to 1,062 minutes per millennial and 1,196 minutes per person in the 35-49 group. Other millennial trends in smartphone communication included a greater willingness to incorporate new social or messaging platforms into their routine, and a higher rate of using group messaging platforms compared with older respondents.