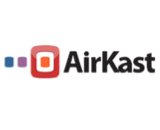 AirKast, a provider of mobile apps to radio stations, announced that it will provide free Alexa skills for all of its customers. That means more than 800 North American radio stations, syndicated radio hosts, and podcasters will receive voice commands so their work can be accessed on the Amazon Echo smart speaker. AirKast's voice skills will also offer a unique functionality that will permit its clients to collect and harness permission-based user data. This could help them improve selling mobile ad campaigns and driving listener engagement.
"We expect that these new Alexa skills will be quite beneficial to radio stations — by permitting them to forge easy-to-use personal connections with their audiences, and by giving them new content whenever and wherever they want it," explained AirKast CEO Larry Leung. "It's our mission to not only provide basic Alexa skills, but also more advanced voice recognition, so fans can interact with a radio station's podcasts, show schedules and other application-based content," he added. "The radio industry is excited to see the resurgence of 'at home' audio usage as it's been competing with other digital music services."
In addition to the Alexa skills, AirKast announced the release of new features for its service. These include advance push notifications, multi-language support, intelligent message scheduling, segmentation opt-in/opt-outs, visual mobile listening heat maps, breaking news, breaking weather alerts, and live in-
app video streaming support.