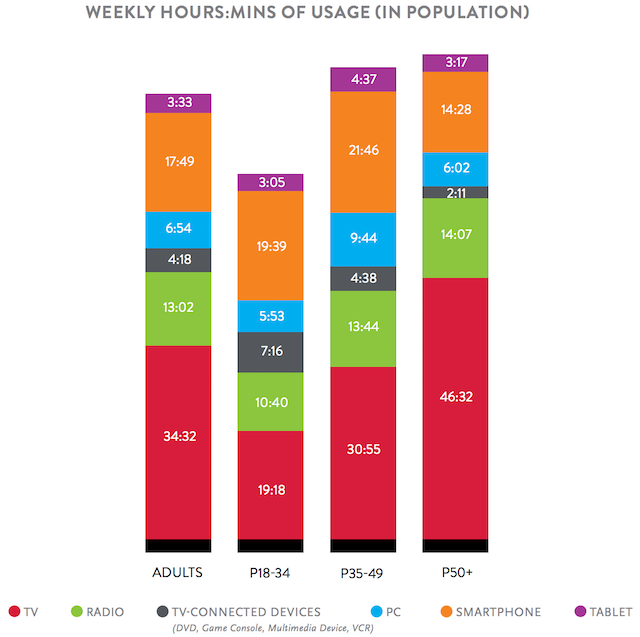 Nielsen's Q4 2016 comparable metrics report continued the upward trajectory for smartphone use seen in its Q3 results. Radio, on the other hand, stayed essentially flat within the U.S. media consumption landscape. Weekly reach for radio has stayed around 93% for several quarters, and radio is used an average of 5.1 days per week. Smartphones are used even more frequently at an average of 5.8 days per week.
Across all adults, radio had 13 hours, 2 minutes of weekly usage, down from 13 hours, 5 minutes in Q3. The age 18-34 group continues to pull down that average; the Q4 radio usage was 10 hours, 40 minutes, compared with 10 hours, 53 minutes in Q3. Both other age groups also saw small declines in weekly radio usage.
Smartphone time increased across all groups from the previous quarter. The overall average rose from 15 hours, 12 minutes to 17 hours, 49 minutes. All age groups posts spikes in weekly usage for their phones. For the 18-34 set, weekly smartphone usage outpaced weekly TV usage.
Nielsen breaks out weekly hours by race, and both black and hispanic groups showed stats above the composite in music consumption. Weekly radio usage was 13 hours, 43 minutes for black listeners and 14 hours, 3 minutes for hispanic listeners. Streaming audio on smartphones had 36 minutes of composite weekly use, compared with 41 minutes for blacks and 51 minutes for hispanics.
For all adults, smartphone streaming audio reached nearly 103.54 million uniques in Q4 and posted 9 billion gross minutes. The growth was most notable for the age 18-34 group, with gross minutes spiking from 3.48 billion in Q4 2015 to 4.19 billion in Q4 2016. PC streaming audio reached 23.39 million uniques and posted 3.15 billion gross minutes.
Radio saw a reach of 224.74 million in Q4 2015 and 227.82 million in Q4 2016. Gross minutes rose from 188.1 billion to 192.28 billion.