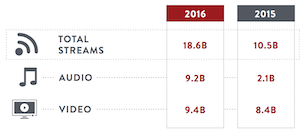 Canadian listeners are continuing to shift to streaming, with total music consumption up 7.4% on year in the first half of 2016. Nielsen's mid-year report for Canada found that total on-demand streams from audio and video platforms reached 18.6 billion songs.
Audio streams more than tripled from 2.1 billion in the first half of 2015 to 9.2 billion in that period this year. Video streams also grew, but at a slower pace of 8.4 billion streams to 9.4 billion streams. The services in that accounting of on-demand audio and video streams included Apple Music, Google Play, Xbox, Spotify, Tidal, YouTube/Vevo, and Slacker.
As in the U.S. mid-year report, Canada also posted big dips in album sales. Total sales dropped 19% on-year to 9.9 million units. CD sales fell 16% to 5.3 million units and digital album sales declined 25% to 4.3 million. Including track-equivalent albums, the total units decreased 20.4% to 13.9 million units. The only album format to post a higher number was vinyl, up 39% to 287,000 units.