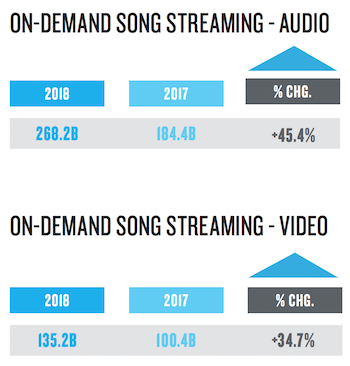 Nielsen has released its 2018 mid-year music report, and the analysis shows overall growth in music consumption as streaming continues to post bigger and bigger numbers. Total album equivalent consumption — which includes all of Nielsen's metrics for albums, tracks, on-demand audio, and on-demand video — rose 18.4% on-year to 360.1 million.
On-demand streams of both audio and video rose at a faster pace, spiking 41.6% from 284.8 billion in the first half of 2017 to 403.4 billion in H1 2018. The audio streams in the period rose 45.4% to 268.2 billion, while video streams increased 34.7% to 125.2 billion.
The streaming performance drove success for overall digital music consumption. Album equivalent consumption for digital formats rose 24.7% to 318.8 million. Digital album sales dipped 21.7% to 27.5 million, while digital track sales fell 27.4% to 223.1 million.
The share of music consumption on physical formats continued to dwindle in the latest report. Total physical album sales declined 14.6% to 41.3 million. As has become common, vinyl LP sales were the sole area of growth, increasing 19.2% on-year to 7.6 million.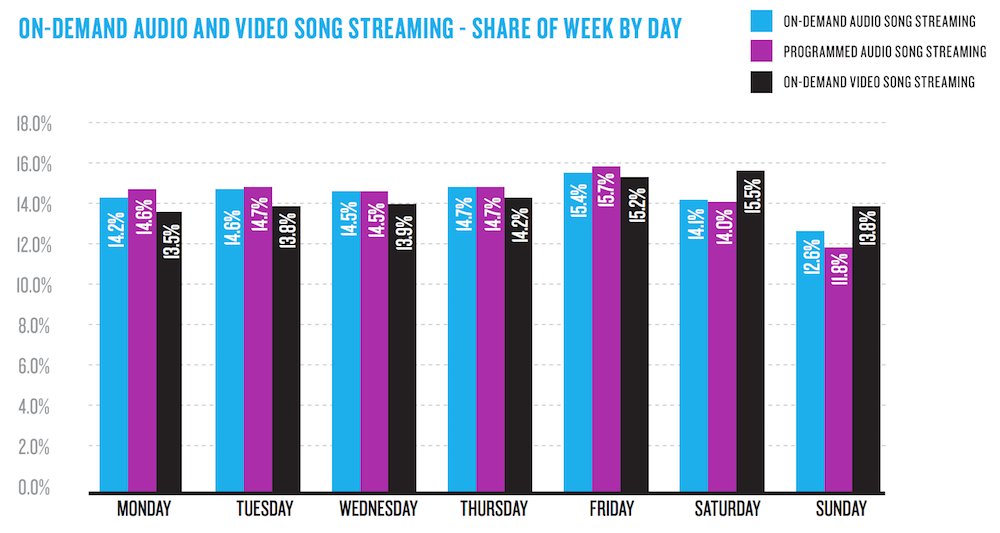 Nielsen broke down streaming habits by day of the week, noting some slight trends in overall preferences. During the weekdays, streaming of on-demand audio and programmed audio generally hovered in the 14% range, reaching a peak of 15.4% and 15.7%, respectively, on Fridays. Sunday was the slowest day for audio music. On-demand video song streaming reached its high on the weekends, only surpassing the rates for audio on Saturday and Sunday. Saturday is the highest rate for on-demand video at 15.5%.