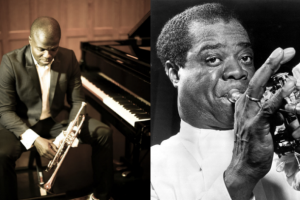 Radio consultant and podcast entrepreneur Mark Ramsey has announced his next program venture, a six-part "biopic without pictures" podcast series about Louis Armstrong called Pops. The show is created in affiliation with podcast development studio Workhouse Connect, where ex-Triton Digital exec Mike Agovino is President/CEO.
Mark Ramsey is creator of the highly produced Inside Jaws, and has built a reputation for richly produced podcasts. Past projects include Inside The Exorcist and Inside Psycho.
Pops will be narrated by Reno Wilson, who starred in Good Girls. Wilson will voice the Armstrong character in all life stages.
We asked Ramsey about music in the show, mindful of the difficulty using copyrighted tracks in podcasts, and also the legal tangle around use of pre-1972 tracks in any digital environment. He told us that Pops will use originally produced music, and no historic Armstrong tracks. "As is the case with all of our series, this one will abide by the law," Ramsey said, noting that Reno Wilson produced some music for a stage show about Armstrong.
Mark Ramsey reports that about half the series is complete now, and is slated to launch next year. Jeff Schmidt, who has worked with Ramsey before, is in charge of sound design. Ramsey called Schmidt a miracle worker, and noted that the project is " incredibly challenging in the absence of Armstrong's original recordings."