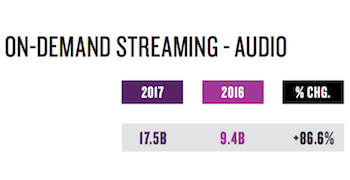 Nielsen has published a mid-year report on Canada's music market. Total audio consumption for the first six months of 2017 reached 22.9 million units, up 14.4% on-year. That metric includes albums, track equivalent albums, and on-demand streaming equivalent albums. The growth was founded on 86.6% grown in on-demand audio streaming, which reached 17.5 billion for the period. Weekly on-demand audio streams broke the 700 million milestone for the first time in Canada during the half.
Traditional sales fell off in all formats, with total album sales down 17.4% to 8.2 million. CD sales declined 12/3%, digital album sales fell 24.6%, and even vinyl dipped down 1.7%.
The report shared a few other highlights from the Canadian music market. Radio is still a top channel for discovery, with 68% of Canadians using it to find new music. However, radio has also been seeing shifts, with 24% listening to AM/FM online compared with 21% in the same period of 2016.
Nielsen also shared its half-year music report for the U.S., which showed similar trends.