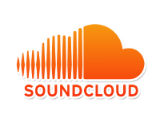 Yesterday's Quick Hits included a rather dire outlook on SoundCloud from TechCrunch, which shared reports from an all-hands meeting at the audio company that cast serious doubts on its financial outlook. Today brings two responses to that report, one from SoundCloud and one from a possible source of help.
SoundCloud released a statement responding to the article. Although the statement claimed that TechCrunch had "a number of inaccuracies," it reads as a confirmation more than a refutation. The TechCrunch article said that the company was funded until Q4, and quoted the company's PR team as acknowledging that "We are fully funded into Q4." TechCrunch reporter Josh Constine stated that the publication stands by its reporting.
Although the SoundCloud statement doesn't appear offer any fresh hope for the company, it might have a powerful ally. Chance the Rapper, a hip-hop performer who is one of the most noteworthy success stories to come out of the SoundCloud ecosystem, may be throwing his clout behind the business. Yesterday he tweeted simply, "I'm working on the SoundCloud thing." It might take more than a celebrity backer and his financial resources to keep SoundCloud afloat, but there would be a lovely poetry to that possible outcome.