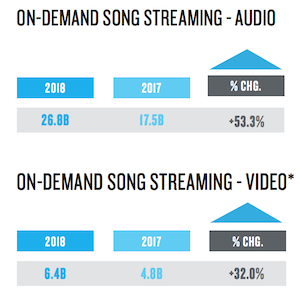 Nielsen has released its mid-year music report for Canada. The market showed overall growth, with streaming playing a major role in the positive performance. Total album equivalent consumption rose 19.8% to 31.3 million units.
On-demand song streaming in Canada across both audio and video increased 48.7% to 33.1 billion. Most of the growth came in on-demand audio streams, which rose 53.3% to 26.8 billion. Video song streams on-demand grew 32% on-year.
Post Malone was the top artist to date by on-demand audio streams, followed by Drake. Drake's single God's Plan was the top song for on-demand streams, with more than 97.7 million combined audio and video streams.
Physical album sales continued to fall off in the period, declining 13.7% to 4.2 million. Vinyl LP sales were the area of growth for physical formats, increasing 66.6% to 400,000 units.
The Canadian mid-year report echoed the trends lined out in the companion report for the United States, where streaming motivated the financial gains and physical format sales dipped.