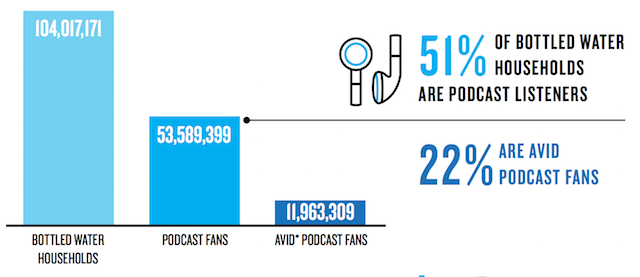 Nielsen has released its Podcast Insights report for Q3 2017, which found that a full 50% of U.S. households now identify as podcast fans. The analysis focused on the crossover between those millions of podcast fan-households and three advertising categories to provide a snapshot of the value podcast listeners can offer to brands. Results draw on the Nielsen Homescan Panel.
The report looked at data around bottled water, baby food, and beer. Bottled water is bought in 84% of all U.S. households. Within that consumer base, 51% of those households are also podcast listeners and 22% are avid podcast fans, people who define themselves as "extremely interested" in a genre of the audio shows. The annual spend on bottled water for podcast listeners is $52.33, compared with $56.16 for avid fans. The whole podcasting audience influences more than $2.8 billion in bottled water sales each year.
Similar trends bore out in the other two categories. Avid listeners spent a bit more annually on the segment than their more casual counterparts. Even though a smaller number of households are buying baby food or beer, more than half of their consumer bases are podcast listeners. Both segments had 23% of their households identify as avid podcast listeners. Podcasting listeners influence annual sales of more than $1.1 billion for baby food and nearly $3.05 billion for beer.