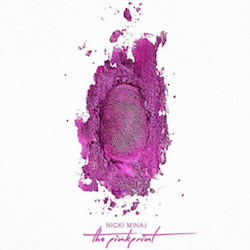 Nicki Minaj weighed in on the role of streaming in an Instagram post celebrating one year of her album The Pinkprint. She called for streaming performance to be accounted for in sales figures, noting that on Spotify alone, The Pinkprint generated the equivalent of 1.4 million sales. If streaming is included, her album would be triple platinum at 3.3 million sales.
"The music business doesn't really seem designed to reward our culture with the sales & accolades we deserve," she wrote. She even tweeted out the stats from Universal that showed just how much the album was streamed as proof of her argument (see the tweet and chart below).
There are some organizations that do include streaming equivalents in their calculations of an album or track's performance. For instance, Billboard has added streaming numbers into its Top 200 albums chart. And internationally, Spain, the UK, Australia, and New Zealand have redone some of their charting policies to account for streaming. But it's still a piecemeal approach that hasn't been globally standardized.