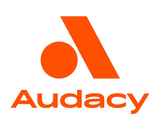 Audacy, the new branding of both Entercom radio group and its RADIO.COM listening app, is pushing its new identity into the public sphere today by announcing the two new podcasts from subsidiary Pineapple Street Studios. The shows will enjoy exclusive full-series binge listening on Audacy, while outside podcast apps will distribute normal RSS feeds on a weekly cadence.
One of the shows, My Fugitive, was released yesterday. The other, Stay Away from Natthew MaGill, drops on April 13 with the same binge-exclusive on Audacy.
Here are the formal descriptions of both shows:
My Fugitive: Nina Gilden Seavey was twelve on May 4, 1970, the day an Air Force building in St. Louis burned to the ground. Her father, famed St. Louis civil right attorney Louis Gilden, represented the young man accused of the crime: Howard Mechanic. Facing serious federal time, Howard went on the run and became one of the longest running fugitives in U.S. history. As an adult, Nina picked up the trail. What ever happened to Howard Mechanic? Part memoir, part investigation, My Fugitive is the tangled story of her search for answers—fueled by hundreds of Freedom of Information requests, hundreds of thousands of pages of documents, what she discovered about FBI surveillance and confidential informants around the case—and how this journey shines new light on historical events from the Cold War to COINTELPRO to the assassination of Dr. Martin Luther King Jr.
Stay Away from Matthew MaGill:  When Matthew MaGill died alone in the woods on the Florida-Georgia border, he left behind a box filled with the artifacts of an incredible life: from Broadway in the 1970s, to a 747 hijacking, to the culture of drugs and luxury cars in 1980s Florida. A series of coincidences leads reporter Eric Mennel to the box, sending him on a five-year search to understand the truth about its owner. But as Mennel learns who Matthew MaGill really was, he is confronted with questions about his own life, his own mistakes, and his own family secrets.
"Audacy is where the best storytellers and most influential talent in podcasting come to do their best work. We are so proud to partner with the incredible, creative team at Pineapple Street Studios to bring these series to life with exclusive binge windows across Audacy's digital platform, as we bring even more premium on-demand content and experiences to our listeners," said JD Crowley, Chief Digital Officer, Audacy.
.