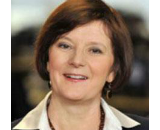 Broadcasting leaders at the Radiodays Europe conference have announced the creation of the European Digital Radio Alliance. This organization will promote DAB and digital radio across the bloc. It was established in partnership with the European Broadcasting Union, which recently released a study into the adoption of digital radio technology in the EU.
In addition to the creation of the group, the Alliance announced that Helen Boaden had been elected as its first president. Boaden is the director of BBC Radio.
"Digital radio offers great advantages to listeners but for too long we have seen it as a national issue. That fragmented approach has been holding back investment," she said. "The Alliance is here to provide that united front and to speak with one voice to manufacturers, governments and regulators."
The Alliance's founding members include BBC, Global, Bauer Media Group, Deutschlandradio, Die Neue Welle, and Czech Radio.