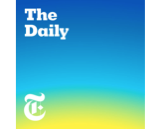 The Daily, the weekday news podcast from The New York Times and Michael Barbaro, is going to be getting supplementary written words. Episodes of the show, which has topped Podtrac's monthly show rankers for the past two months, are now getting transcripts. Other podcasts from the NYT will be rolling out transcripts in the future, with The Argument and Still Processing the next subjects. Third-party service 3Play will be used to transcribe the audio, and a Times editor will review the written copy for accuracy and correct names.
The move is an effort to make the publication's audio content more available to more readers. "It's important to us that all of our readers can engage with our report, whether they choose to listen, share or read, and audio transcripts are a big step forward in our commitment to make Times content accessible to all users," designer Dalit Shalom wrote in a blog post about the development.
The blog post also includes additional context behind the design process for displaying the transcripts. In addition, The Times is working on ways to explore sharing clips of the podcast on social media.