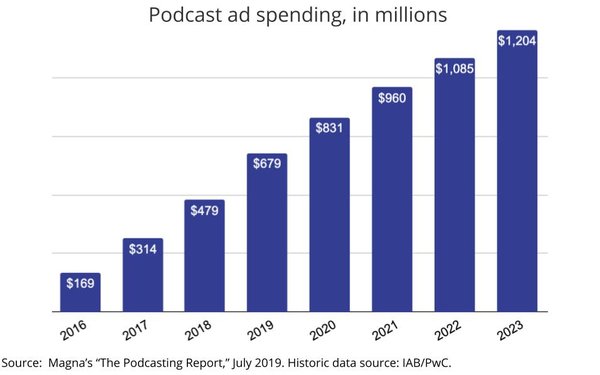 IPG Mediabrands' Magna division has projected that podcast ad spending in the United States will surpass $1 billion in 2022. That forecast starts with an estimated $679 million in spending this year. The recent podcasting report from Magna found that this segment is responsible for 3% of the U.S. audio ad marketplace, currently valued at $16.2 billion. Under its 2022 prediction, podcast ads will up their share of the audio pie to 8.2%.
This report is more conservative on the podcast advertising market than previous studies, such as the IAB/PwC forecast released in June. That analysis also projected 2019 U.S. podcast ad revenue at $679 million, but set 2021 as the year when podcast advertising will break the $1 billion milestone in the U.S.
Magna's report noted that the company does not expect podcast advertising to replace the massive revenue generated by linear radio, but the projection does call for podcasting to eat a bigger share over time (see the table below). Linear radio is predicted to see 2019 revenue of almost $13.15 billion. However, radio revenue has been gradually falling, and Magna expected that rate of decline to increase in the next few years, by four to five percent negative growth per year (also in the table below).
The study is interesting inasmuch as it breaks out local radio, total linear radio, digital audio radio broadcasters (streaming radio), digital audio pure players excluding podcasts, and podcasting. All these categories are projected to grow revenue at some rate, except for linear radio.