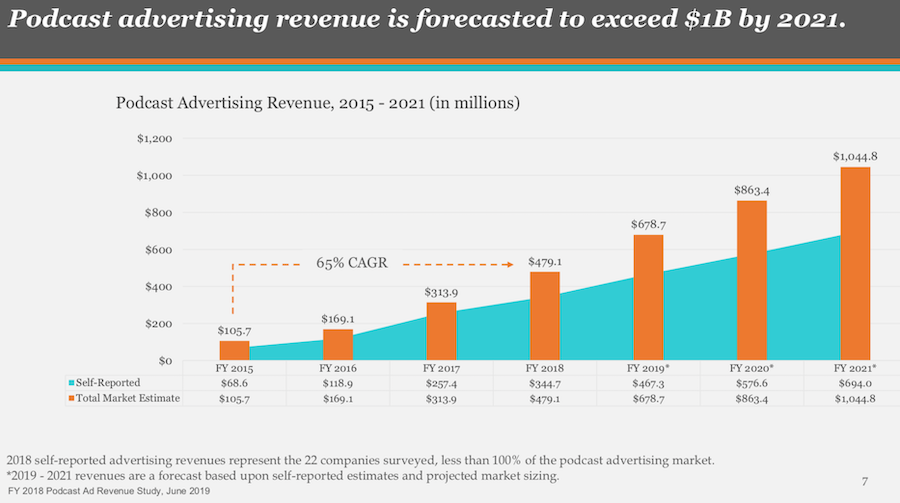 Marketers spent an estimated $479 million for advertisements on podcasts in the United States in 2018. The figure comes from the IAB and PwC's third annual investigation into advertising for podcasts. The total marks 53% growth from $314 million in 2017, and the IAB/PwC Podcast Advertising Revenue Study predicted that the segment will grow to more than $1 billion in 2021.
This analysis is based on self-reported podcast advertising revenues from 22 companies in the U.S. The actual reported podcast ad revenue from participating companies rose from $118.9 in 2016 to $257.4 in 2017 and finally $344.7 million in 2018.
Dynamically inserted ads are responsible for a growing share of that revenue total, with a 41.7% portion of the 2017 total and 48.8% of the 2018 total. Advertisements that are baked in or edited in are still responsible for a slight majority with 51.2%.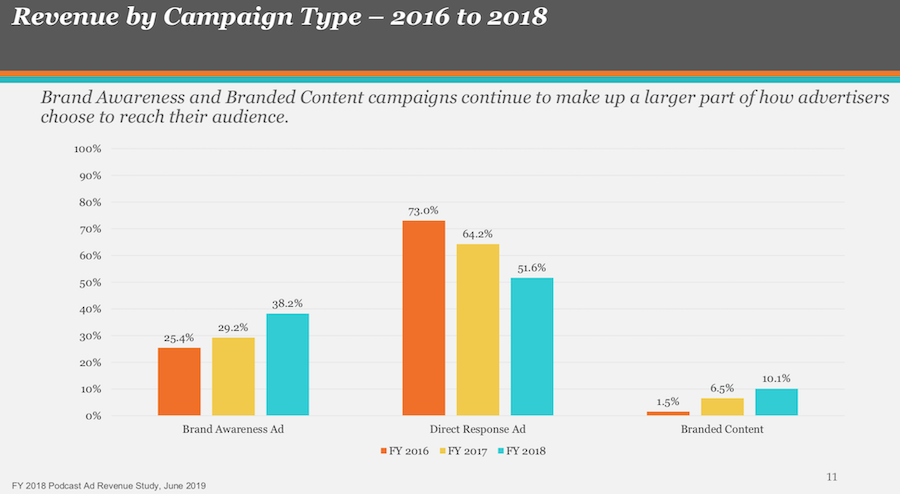 Brand awareness ads and branded content are the types of advertisements seeing revenue growth, generating 38.2% and 10.1% of podcast ad revenue in 2018, respectively. Direct response ads are still the majority, but at 51.6%, their impact has dropped notably from 73% of revenue in 2016. Host-read ads are still generating about two-thirds of revenue, posting only a slight dip from 66.9% of 2017 revenue to 63.3% of 2018 revenue.
The report also noted the buy type of podcast ads. There are fewer definite trends here, with quarterly and transactional buys surpassing annual purchases in share size. Programmatic ad buys are still a very small sliver, but the share for that format did nearly double from 0.7% to 1.3% between years.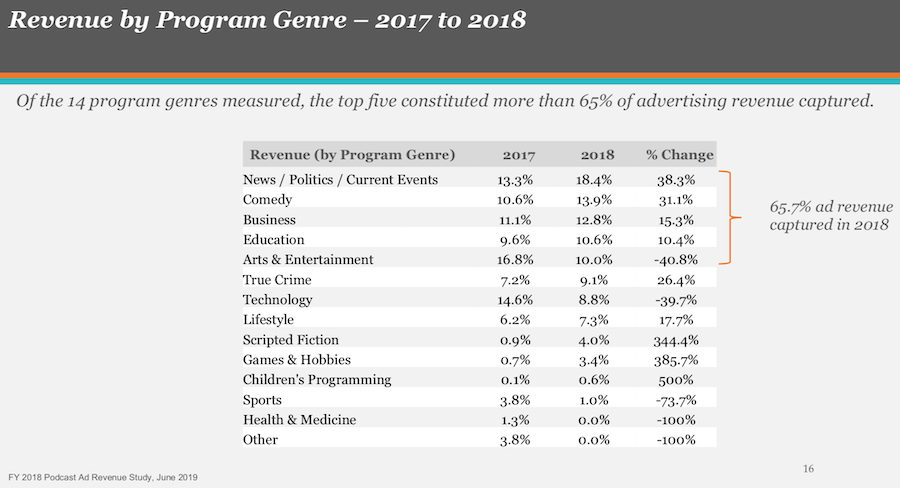 In an examination of both the podcast genres and the business categories delivering revenue, a few topics drove the lion's share of the results. In terms of show subject, news/politics/current events was the leader. It combined with the comedy, business, education, and arts & entertainment topics to deliver 65.7% of the year's captured ad revenue. Direct to consumer retail was the leading business category for podcast ads, followed by financial services, B2B, arts & entertainment, and telecommunications. Those five categories represented 73.7% of ad revenue from 2018.
ABC Radio, Adswizz, AudioBoom, Authentic, ESPN, Gimlet, iHeartMedia, Market Enginuity, National Public Media, Megaphone LLC, Podcast One, Inc., PMM, Inc., Rawvoice, Stitcher, WarnerMedia, Westwood One, and Wondery sponsored the study.