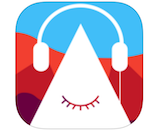 Bumpers is the newest mobile app exploring the podcast space. It allows people to record their own podcasts directly on their phone. The app breaks recordings into short phrases to make the editing process simpler, whether the host wants to delete a section, add one of Bumpers' sound effects, or import other saved audio. It also has a set of editing tools that include background cancellation, voice equalizer, and adding segue music.
Bumpers is also actively encouraging show creation. It has a podcast series called Bad Asian led by Amy Cao, and it offers weekly prompts to keep other hosts inspired with ideas. Although shows created in Bumper are only hosted within the company's own ecosystem, it does have sharing features to put the recordings on social media networks or to embed them on a website. As with many of the other entrants in this niche, Bumper also lets its members subscribe to topics for audio discovery. The content is available on Bumper's website as well.
The company secured $1 million in seed funding and its app is currently available on iOS. Spark Capital led the round, and Twitter co-founder and Medium CEO Evan Williams is involved as a strategic angel investor.