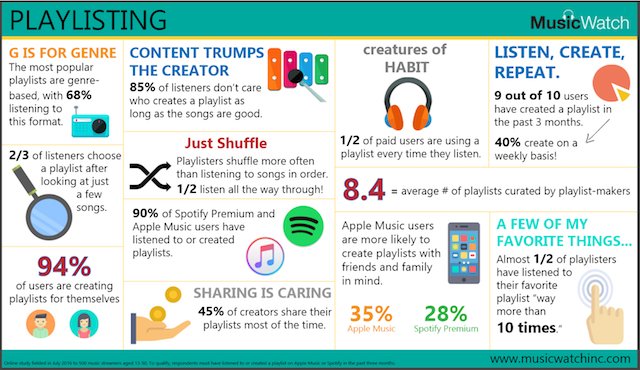 MusicWatch investigated the role of playlists in listener habits and behaviors. The company compiled 500 online interviews with users of Spotify or Apple Music. According to the results, 90% of music streamers have listened to or created a playlist. Paid subscribers to those services appear to be more active, with eight in 10 tuning in every day. Half also listen to a playlist every time they use the music platform.
"Playlisting has become the fabric of the music streaming experience," said Russ Crupnick, managing partner of MusicWatch. "The ability to listen to and create playlists has become as important a feature as the catalog of music itself."
Genre designations were a top trait for playlist listeners; 68% listen to genre-specific programming. The source of playlists doesn't appear to be as important as the content, at least for a solid 85% of the respondents. Discovery and top hits playlists provided by the two streaming services secure a large percentage of ears. Two-thirds of respondents listened to the lists of current hits from both Spotify and Apple Music, while 44% listen to Spotify's Discover Weekly or Apple Music's Discovery Mix.
One intriguing factoid is that listeners are more likely to put a playlist on shuffle than to listen straight through the tracks as programmed. Considering how many curators look at playlists as the modern-day mixtape, where flow and placement are key, that's a surprising behavioral trend.