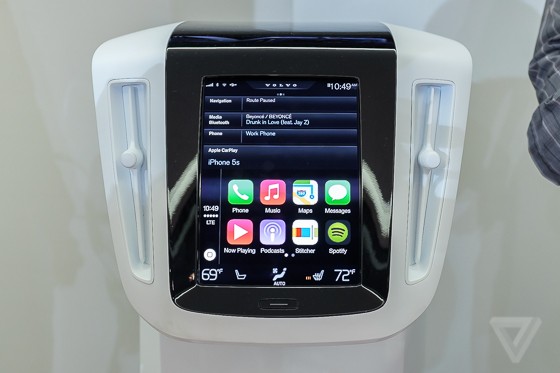 Apple's CarPlay, a digital-dash system based on the iPhone, got more exposure at last week's New York International Auto Show, where Volvo, Mercedes-Benz, and Hyundai showed off their CarPlay integration concepts. (The Verge has a good "hands on" video demo of CarPlay here.)
CarPlay is a partially open system that any participating automaker can customize to its vehicles, and its understanding of what drivers want and need. So, with each new concept that's introduced at auto shows we get a better view of how the system can behave, and what it means for in-car listening.
Here's what we know to date:
CarPlay uses Siri, Apple's voice-activated robotic companion, quite a lot to control CarPlay (calling up music, for example).
At the same time, physical controls are implemented, either through the dashboard's touch screen, knobs, or both.
The driver connects the phone to the dashboard, and never has to touch the phone while driving.
CarPlay does not replace native car functions such as radio and navigation — not all buyers will be iPhone owners, or want to connect a phone.
The ways in which CarPlay functions mingle with native car functions vary, from establishing CarPlay as a discrete dashboard app to a seamless mingling of iPhone and native functions.
The big question in the audio-content industry is the extent to which AM/FM radio will be displaced by Internet-delivered listening, both in CarPlay and in the digital-car movement generally. For drivers who use CarPlay exclusively for in-car entertainment, AM/FM will be activated through an app such as iHeartRadio — which, in fact, is an early adopter of the system, and will appear in the CarPlay listening lineup when the system rolls onto the road this year.
CarPlay's options for automakers add up to a different connected-car philosophy from Google's Open Automotive Alliance, which seeks to power the entire dashboard with Google's Android operating system — creating what might be termed a Google car. (At least, insofar as the head unit is concerned.) Some car makers are participating in both programs.