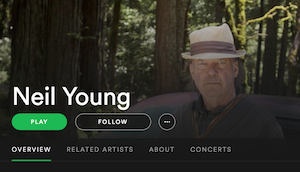 Few critics of streaming music have been as vehement as Neil Young. The rock legend has levied many (often outrageous) critiques at streaming services over the years, going so far as to remove his entire catalog from Spotify and Apple Music in July 2015. "I don't need my music to be devalued by the worst quality in the history of broadcasting or any other form of distribution," he said. "When the quality is back, I'll give it another look."
Since then, though, there have been signs that Young has softened his prickly stance. His discography became available on Tidal in May. Tidal does have an option for higher audio quality files than the average online music service, but not all subscribers opt to pay the premium for that tier.
Now his tunes have returned to Spotify and Apple Music. The sites even have his new track Peace Trail. Nobody from Young's camp has weighed in on why he's back in action, but whatever the reasons, it's good news for his fans.
Young is the CEO of music startup Pono Music. The massively successful crowdfunding project promised to make a music player and digital download store that offered the best audio file quality possible. Despite the huge fanfare during its Kickstarter and Crowdfunder campaigns, Pono has been very quiet of late. The most recent news was a shutdown to its operations, as it transitioned from Omnifone to 7digital as its supplier. It's only said to be a temporary pause, but that news broke in July and the Pono store is still under construction. Not a good look, Neil. Especially to those scores of fans and supporters who bankrolled your pet project out of their own pockets.