As Edison Research releases its 2021 Infinite Dial Australia (sponsored by Commercial Radio Australia, Southern Cross Austereo, LiSTNR, and Triton Digital), there is a notable disparity. Nearly all (91%) of Australians reported being aware of podcasting, while only 37% listened in the past month. (Unlike the American flagship Infinite Dial, the Australian version does not report how many Australian have ever listened to a single podcast.)
It makes an interesting comparison with the American population, which is less aware, yet listens more, as the following two charts illustrate.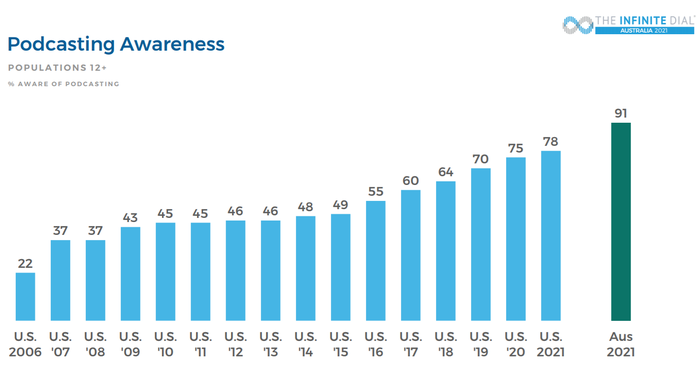 "Podcasts make a big leap forward in Australia, now just mere months behind the figures we see in the USA and Canada." –Infinite Dial Australia 2021
When it" comes to weekly listening — the real indicator of podcasts as a regular part of a person's media diet — 26% of Australians are there, compared to 28% of Americans. Lots of upside presumably to come in both populations. On average. Aussie podcast listeners consume five podcasts a week.
In-car podcast listening took a jump in the 2021 report compared to 2020 — 8% of people listen while driving, up from 2% last year.
As with the American Infinite Dial, smart speaker adoption and use is covered. 265 of respondents have at least one. (Compare to 33% in the U.S.) The Google Nest family of products is by far in the lead, 24% to 3% for Amazon Alexa. Multiple-speaker ownership is jumping — the number of households with three of them nearly doubled from 13% to 26%. (That number is 34% in the U.S.)
Another interesting Aussie-U.S. comparison is in brand recognition of audio streaming services. Spotify plays stronger down under, while Amazon Music is better known in America: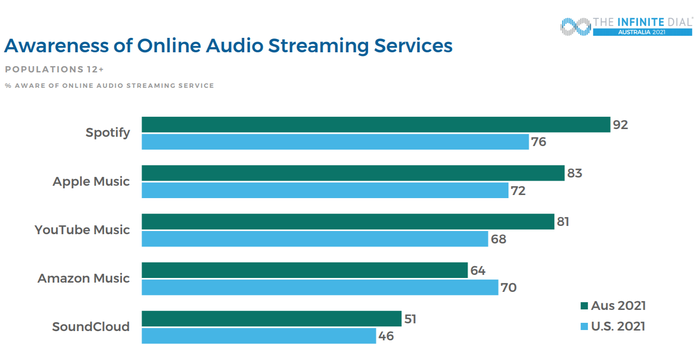 Weekly use of YouTube for music is trending downward in Australia over three years, from 48% in 2019 to 39% this year.
Not to forget radio, it is notable that the four buckets of radio represented in this report (AM, FM, DAB+, and "catch-up" podcasts) enjoys considerable reach: 86% monthly and 80% weekly.
"Australians have continued to embrace radio through this period of unprecedented disruption and are listening both live and online through multiple sources, including apps, catch-up podcasts and smart speakers,." –Joan Warner, CEO, Commercial Radio Australia (CRA)
.