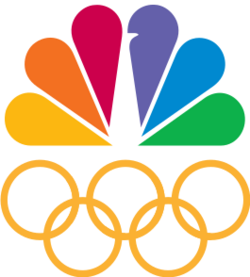 As the beleaguered Tokyo Olympics get underway this week, with the opening ceremony scheduled for Friday, NBC Olympics is promoting its range of Olympics podcasts. We did not find a coherent guide to the shows on the NBC Olympics website, and the network's emphasis appears to be the Apple Podcasts channel, where the shows are grouped. (We actually received the press release from Apple, not NBC.)
"NBC Olympics surrounds the Tokyo Olympic with extensive podcast coverage taking listeners inside this summer's Games," the announcement reads. Most of the emphasis is on two shows: The Podium and The Village. 
The second season of The Podium, which debuted in May with weekly episodes, continues this Friday, dropping a new episode each day throughout the 17-day Tokyo Olympic Games until the Closing Ceremony on Aug. 8. Hosted by Lauren Shehadi, The Podium explores stories that have come to define past Olympic Games and will ultimately shape the Summer Games in Tokyo. The daily episodes will combine soundbites from events in Tokyo with athlete and expert interviews to give listeners insights beyond the broadcast.
Also launching this Friday is In The Village, a new daily podcast hosted by three-time Olympian Elizabeth Beisel that will give listeners an athlete's view of what happens in the Olympic Village when they aren't competing. (Note: Beisel, who is in Tokyo, will be speaking remotely to athletes who are in the Olympic Village).
Both shows are produced jointly by NBC and Boombox Group, a sports content specialist.
Another show is My New Favorite Olympian, which introduces listeners to the most inspiring members of Team USA through intimate interviews with the athletes and those closest to them. My New Favorite Olympian is co-hosted by Olympic medalist and trailblazer Ibtihaj Muhammad and NBCLX storyteller Ngozi Ekeledo.
Also, the audio version of the Peacock On Her Turf in Tokyo show, which is dedicated to covering women's sports at the Tokyo Olympics and features hosts Lindsay Czarniak, Lolo Jones, and MJ Acosta-Ruiz, debuts this Friday. The podcast is produced by NBC Sports Audio in collaboration with Blue Wire Podcasts.
.