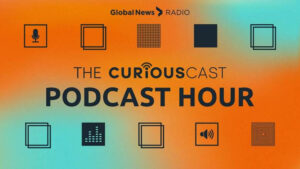 Canadian media company Corus has started distributing its podcast content to radio, via The Curiouscast Podcast Hour. The shows are heard weekly on seven Corus radio stations.
CuriousCast is Corus's podcast network, launched in 2018. Perhaps its best-known title is The Ongoing History of New Music, hosted by Alan Cross. Other notable shows include  2020 Edward R Murrow winners 13 Hours Inside the Nova Scotia Massacre, and Crime Beat**; 2020 Canadian Podcast Award winners Dark Poutine, History of the 90's , as well as Nighttime and 2020 RTDNA winner Global News' What Happened To and brand new fiction adventure podcasts Escaping Denver and Marsfall.
The CuriousCast Podcast Hour is hosted by Chris "Dunner" Duncombe, director of Streaming and Podcasting at Corus since 2018 (and Director of New Media for five years before that).
"I have always been fascinated by stories and storytellers from journalists to some of the most creative minds in science fiction," Duncombe said. "They tell our history, reveal hidden truths, and take us on adventures we could simply could have never imagined. On this show, we're going to bring you a different story every week from some of the best Curiouscast podcasts – with topics ranging from crime to world politics, and history to music, to hopefully turn you onto your next favourite new podcast."
On the radio side, Larry Gifford, National Director of Talk Radio at Corus said: "For years our news talk radio stations have been editing audio from radio shows to create daily podcasts and now we're taking original podcast content and showcasing it on radio. The Curiouscast Podcast Hour combines the artistry of a captivating audio storytelling while helping listeners discover new podcasts that they can follow and explore other episodes on their own."
The Curiouscast Podcast Hour can be heard across the network at the following times:
980 CKNW: Saturdays at 8 p.m. PT
770 CHQR: Saturdays at 4 p.m. MT
630 CHED: Sundays at 4 p.m. MT
680 CJOB: Sundays at 8 p.m. CT
900 CMHL: Saturdays at 5 p.m. ET
980 CFPL: Saturdays at 5 p.m. ET
Global News Radio 640 Toronto: Saturdays at 5 p.m. ET
.