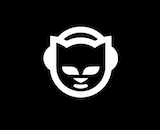 Napster announced multiple partnerships today across several industries. First, it has teamed with Sprint. Customers with the phone company can try out one month of the music service for free, then add the monthly $9.99 fee to their regular phone bills. Streaming Napster music won't count against customers' data plans.
The second deal with with Even, a headphone company. The business touts headphones with "earprints" that adjust sound based on how an individual's own hearing quirks. Napster is creating one of these customized earprints for Even.
Finally, it is collaborating with Lufthansa Systems. The airline now offers music and audiobooks from Napster on more than 70 of its Eurowing aircrafts.