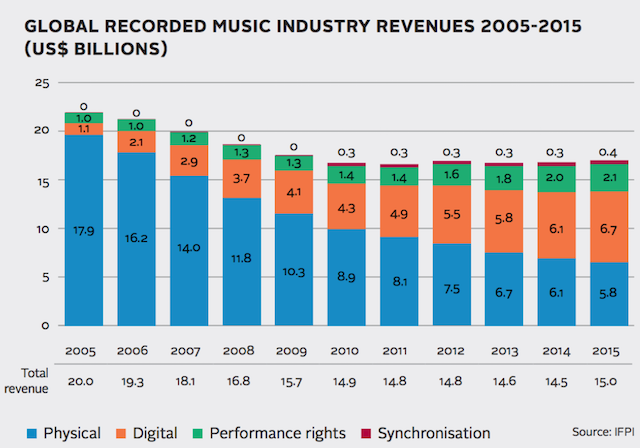 The IFPI has released its 2016 global report, which points to streaming as the key reason behind music's first year of significant total revenue growth since 1995. Global revenue rose 3.2% last year to $15 billion.
Digital outperformed physical revenue for the first time, a result that echoes the U.S. trend highlighted by the RIAA's annual report. The digital share of the IFPI's total revenue pie was 45%, while physical sales had 39%. It was also a year of increase for digital revenue, up 10.2% to $6.7 billion.
Within that strong performance, streaming emerged as a powerhouse, accounting for 43% of the year's digital revenue. Streaming revenue spiked 45.2% to $2.89 billion during 2015. That's a four-fold increase in revenue over five years prior. Streaming has also outperformed download sales in 42 nations. The IFPI presents two general trajectories: the solid chunk of revenue contributed in major music markets such as the U.S. and the UK, and the huge growth percentages from small user bases in markets that still favor physical formats, such as Japan and Germany.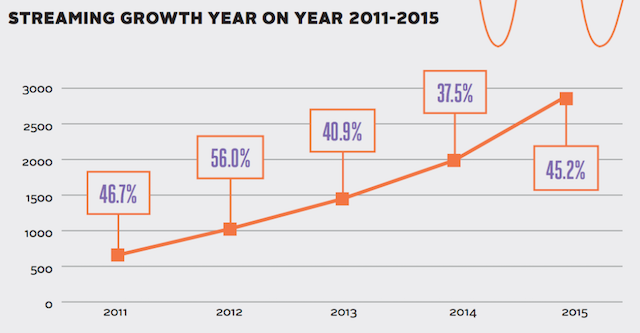 Subscription models continued to attract more listeners, with the IFPI estimating 68 million paying listeners in 2015, compared with its 2014 estimate of 41 million and 20 million in 2012. Services that offer both subscriptions and freemium tiers, such as Spotify and Deezer, saw 58.9% growth, while revenue from strictly ad-supported services edged up 11.3% (this includes revenue from video-on-demand streaming services).
Streaming was not just big in the numbers, it was literally the subject of most of the pages in the report. On the other hand, discussion of downloads and physical formats received little airtime. Downloads saw a 10.5% decline in revenue, while physical revenue dropped 4.5%.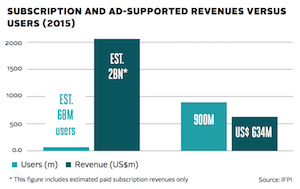 Rather than focus on those once-common elements of the music market, the secondary message from the IFPI in today's report is about the market mobilizing to shift the balance within streaming revenue. Several pages are dedicated to discussions of safe harbor laws that protect services from liability when their users upload copyrighted material. The argument put forth is that the billions of listeners using ad-supported services are not generating enough revenue for the artists and labels.
CEO Frances Moore tackles the topic head-on in her introduction to the report, questioning the fairness of how revenue is being distributed and calling for more legal protections. She notes that both the U.S. and EU governments are currently open to addressing the safe harbor question. "These initiatives will be our industry's priority focus over the next year," she says, making clear that the IFPI is going to the mattresses to push regulations to keep up with the new technologies.
Moore's intro also reflected a slight change in rhetoric for the industry, with a new focus on flexibility and rather than decrying how the listeners' music behaviors have changed. Even though music consumption has increased worldwide, she said this year's return to growth was the result of hard work and adaptation across the industry. "Exploding music consumption is not enough – value returned to the music community is vital too if we are to fund future innovation and creativity," she says.