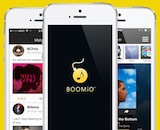 BOOMiO has shut down its music service. GeekWire reported that the company emailed its users that the group had shuttered BOOMiO in order to rethink the product. A message on the app's website promised that the team is planning "a fresh BOOMiO experience."
BOOMiO's business model focused on fair payments, with a Verified Artist program designed to encourage participation from performers. On the user side, social shares of a track earned listeners another play of it, or they could opt to purchase the song on iTunes.
This is the latest in a recent wave of fledgling music services to close. Tapely and Bop.fm also shuttered in recent weeks.