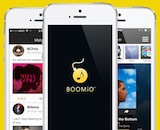 Several startups have sought to blend online music with a social sharing angle. This Is My Jam, Tapely, and Musx have experimented with how people share and discuss music with the latest technologies and streaming platforms. Another company has joined that social music space, but this one may have an edge thanks to securing support from labels. BOOMiO officially launched out of beta this week. The transaction here is a share for a listen: users search for a track to share and listen to, then receive a prompt at the end to either re-share for another play or to buy the song on iTunes. The shares can go to an individual, to a group chat, or to a social network.
To further secure interest from the performer side, BOOMiO will have a Verified Artist program that supplies custom metrics about shares, plays, and listener demographics. "For artists and labels, finding new ways to connect with fans and deliver an experience around the content they've created is always the goal," co-founder and content EVP Bob Case said. "Combining promotion and revenue with an experience that fans love is like the holy grail, and we're excited to see artists and labels responding to us as positively as they are."
It's currently just an iOS app, although the team said they plan to have an Android version available in early 2015.