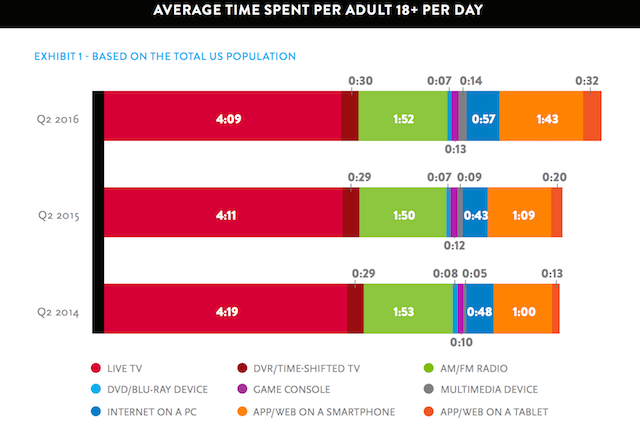 Nielsen released its Total Audience Report for the second quarter of 2016 and got into the nitty gritty of choice in the media space. It acknowledges that consumers now expect options in content, but noted that they don't engage with all those choices all the time.
Television still secured the most hours for an average adult at 4:09, continuing a slow downward trend from the past two years. Radio came in second with 1:52 for average time per day. Monthly time spent with radio was 55:01, up from 54:16 in the year-ago period. Smartphone apps and web jumped up to 1:43 on an average day, with tablets contributing 0:32.
AM/FM broadcasting had monthly reach of 263.7 million users in Q2 2016, compared with just shy of 260.6 million in the year-ago period. Smartphone apps/web use had monthly reach of 202.3 million in Q2 2016, spiking up from 175.7 million in the same period of 2015.
This report broke down the market fragmentation across digital media. In an average month, adults visited 55 websites on PC, used 28 smartphone apps, viewed 20 television channels, and tuned to 7 AM/FM radio stations. Mobile overall has shown an upturn in both smartphone website visits and apps used in an average month.