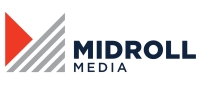 Podcast company Midroll Media announced three new additions to its team. "As we grow Midroll's role as the leader in all parts of the podcast ecosystem — including content creation, monetization and distribution — we continue to build out a world-class leadership team," Midroll CEO Erik Diehn said.
First, Amy Fitzgibbons is Midroll's new vice president of marketing. She joins from PhotoShelter, where she held the same position. Fitzgibbons will be tasked with driving consumer growth and engagement.
Laura Mayer is the second new hire. She will serve as an executive producer focused on the Earwolf network and on the Stitcher label. She will oversee the development, production, and launch of new shows for those properties. Mayer has previously worked at Panoply and WNYC.
Finally, David Murray joins Midroll as its vice president of finance and strategy. He is moving from the E.W. Scripps Company, which acquired Midroll in 2015.
Midroll Media was a platinum sponsor of the RAIN Podcast Business Summit yesterday in New York.