MIDiA Research has tracked the growth of streaming along with many other consumer behaviors over the years. Now, the company is turning its data toward understanding the impact of the COVID-19 pandemic on media industries. The report predicted that just the change of more people working from home would increase available entertainment time by 15%.
The report projected a bell curve for the coronavirus outbreak, with a corresponding wave for impact on entertainment fields. At the "calm before the storm" phase when the virus was limited to a few countries, consumption patterns remained normal. As both alarm and restrictions around the outbreak increase, MIDiA anticipated that the peak of widespread local infections will be paired with a "cocooning" period with increased at-home media consumption. "Although audiences will increase time spent with media at home, the disruption to the production component of the supply chain will have mid-term implications for media consumption," the report observed of the cocooning phase.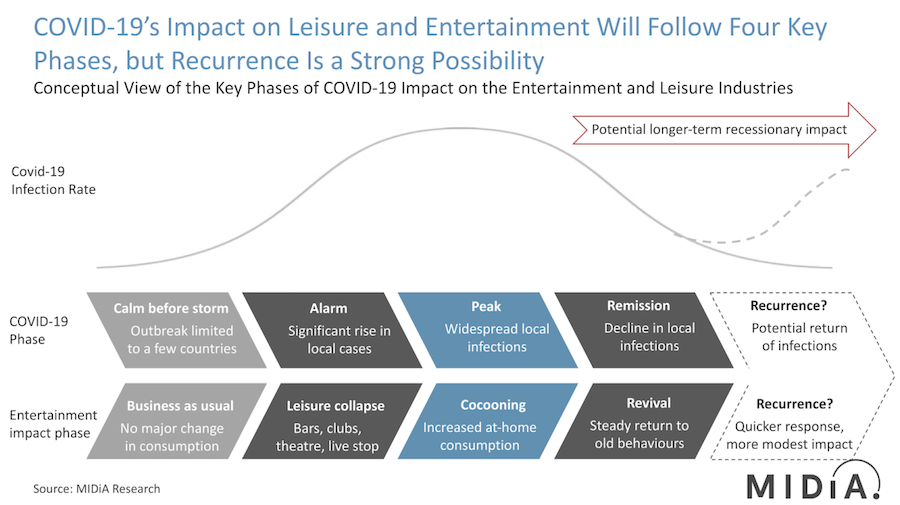 In the deeper dive for music, MIDiA laid out some of the cultural differences that could impact consumption. First, more formal work cultures were it is uncommon to listen to music in the office may see less of an uptick than informal ones. The report profiled Italty, where streaming audio is still relatively new and linear television is popular, meaning newly remote workers may be inclined for background TV rather than tunes.
The report opined that most consumption would be passion-driven, with people filling their free time with whatever activities they most strongly enjoy. The example given was a music subscriber who is also a hardcore gamer; that individual may be more likely to pick up a new video game rather than put on a new album.
Finally, music could see a hit from financial reasons. With a recession expected, consumers may cut their entertainment subscriptions to save money. MIDiA said creative thinking to boost retention could help lessen that potential blow.