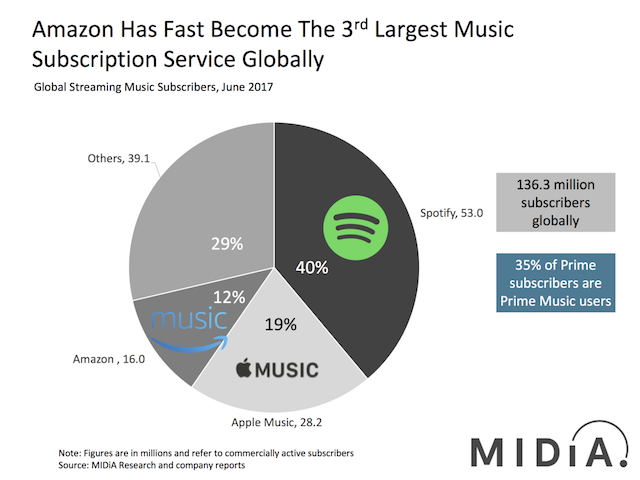 MIDiA Research has published an assessment of Amazon's music efforts. "Based on conversations with rights holders and other industry executives we can confirm that Amazon is now the 3rd largest subscription service," the MIDiA blog post read. "Amazon can now discard its dark horse guise and be revealed for what it is: one of the top streaming music players." That ranking is based on about 16 million subscribers across Amazon Prime Music and Amazon Music Unlimited, which MIDiA said translates to market share of 12%.
The analysis of Amazon reflects several of the unique aspects to its unusual music strategy. First, similarly to Apple when it launched Apple Music, Amazon has a huge potential audience of customers who use its other shipping and online shopping services. The gradual expansion of its music efforts over many years showed a slow and steady approach that has helped keep Amazon in contention as a music provider for many years. It began with selling physical formats on the online marketplace to offering paid downloads, then created a limited streaming service only for Prime subscribers before ultimately presenting the full on-demand Amazon Music Unlimited.
Having its fingers in so many music distribution pies has also helped Amazon stay relevant in many markets. Even countries like Japan or Germany where CDs are still more common than streaming, Amazon's digital commerce platform makes it likely that listeners would be using the company to obtain music.