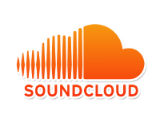 SoundCloud has signed an agreement with Merlin that will enable the independent agency's more than 20,000 labels and distributors to earn money on the platform. The people represented by Merlin will be able to earn royalties from the On SoundCloud advertising program and they will reportedly have involvement in the streaming platform's upcoming subscription service as well. Terms of the partnership have not been disclosed.
"The independent label community has long embraced SoundCloud as an innovative marketing and discovery platform, and Merlin is pleased to partner with the service at the next stage of its evolution," Merlin CEO Charles Caldas said. He told Music Ally that the negotiation process went smoothly between the two parties, even though other major labels have been critical of SoundCloud's options for paying royalties and generating revenue. "Part of this is looking at where all this goes longer-term, and seeing that the challenge is to take all of these destinations where music is consumed – particularly in the volumes it's starting to be consumed on something like SoundCloud – and finding out how to build value around that," he said.
Merlin has been active in the deal-making space of late. It was one half of Pandora's first direct label deal in August, then also inked an arrangement with YouTube. Most recently Merlin entered a pan-Asian partnership with KKBOX.
Although the details with Merlin are being kept under wraps, we did get a sneak peak at the contract SoundCloud is working on with the National Music Publishers Association.