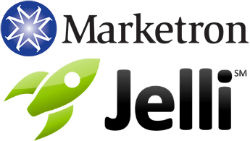 Marketron and Jelli announced this morning an agreement to combine Marketron's system for tracking radio spot inventory with Jelli's programmatic ad-buying software. Both parties emphasize that the alignment is the first instance of a broadcast radio buying system connected to a leading radio traffic system.
As such, Jeff Haley, President and CEO, Marketron, notes the breakthrough aspect of the agreement: "Making radio ads easier to buy is an important milestone for the industry, and we are very pleased to partner with Jelli and make that happen for our customers."
Jelli has built what it claims is the first programmatic ad-buying platform for the U.S. broadcast radio market. (RAIN background here.) Its goal is to update radio-ad buying with demo-targeting tools that have been common issue in web-ad buying for years.
"We bring the transparency, accountability and real-time delivery of the web to the offline medium of terrestrial radio." –Jelli
Marketron builds "open architecture" software solutions for media companies that can be integrated via APIs (application programming interfaces) with other systems like Jelli.
The combined service from Marketron and Jelli is set for launch this fall.