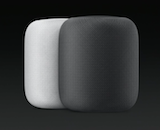 Apple's HomePod launches today, joining the already-crowded and still-growing field of smart speakers. Given the existing competition, a delayed debut, and some critical reviews, how will the HomePod do in sales?
Strategy Analytics predicts that the HomePod will sell 3.8 million units in 2018, which would secure it about a 10% market share. "Apple risks either missing out completely on the lucrative connected home market or at best becoming a niche player unless it urgently refocuses investment on improving its AI assistant capabilities and significantly broadens its HomeKit ecosystem," opined David Watkins, director of Strategy Analytics' smart speaker service.
However, a survey by Morning Consult found that Apple could potentially convert the owners of other brands' devices. The survey of more than 2,200 adults showed that 50% of respondents who have Google Home devices said they were likely to purchase a HomePod in the next six months. Among Amazon Echo owners, the rate was 42%. Across the owners of any smart speaker, 50% said they were likely to buy a HomePod.
We'll know more in the coming months. Apple is notoriously closed in how much detail it reveals, even in its financial reporting, but the next quarter should reveal some hints of how many people do in fact purchase the HomePod.