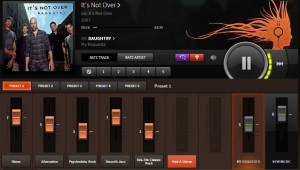 Mad Genius Radio, a lean-back listening platform that allows stream customization by mixing genres and balancing how each type of music is weighted in the stream, will close on Thursday, August 20. Founder Eric Neumann contacted RAIN with the news.
"Some folks have been critical that we took the paid vs. free model approach as being the reason we can't survive financially," Neumann said. "Actually, the biggest hurdle we found was that despite all our positive PR and positive reviews on tech blogs, Facebook, advertising and Twitter there is so much noise that we are still virtually unknown and untried."
While the site will be closed to public use after Thursday, Neumann told us that he is seeking a buyer of the company assets, and the service is available for private demonstration. During its three-year startup period, Mad Genius stakeholders made investment pitches to many venture capital firms. According to a letter sent to Mad Genius subscribers, investments were denied "due to the perception that there are too many big players (Google, Apple, Pandora, Spotify, etc.)."
Mad Genius Radio competed in the non-interactive streaming category against market leader Pandora, Spotify Free, and thousands of niche Internet radio stations, some of which have been operating for over a decade and have sustainable audiences. Mad Genius' competitive thrust was a clever interface which leveraged the idea that many people like music across genre boundaries. Even sophisticated music intelligence systems like Pandora tend to deliver single-genre music streams. Mad Genius also competed explicitly with Radical.FM, which has a similar genre-mixing idea, albeit with a different interface and business model.
"It is a noisy world and we needed not just word of mouth, but substantial marketing dollars, to achieve a viable audience level," Eric Neumann told RAIN News.