After much speculation and apprehension, in which Luminary was fearfully criticized as a potentially ruinous force in podcasting which could blot out traditional free listening, the app is in hand.
#Luminary might ruin the podcast industry as a whole. Currently the ads within the podcasts I usually follow are actually of interest and don't bother me too much but launching a whole new ad-free podcast service might change that. The big question is: Do we need it?

— Arun Wadhwa (@OfficialAWS) April 22, 2019
Will tomorrow's launch of @hearluminary – the wannabe #Netflix of #podcasting – mark the beginning of the end of the free ride for podcast listeners? #PivotToPaid #Luminary #CUSDig https://t.co/l6stnpARw2

— Tom Richardson (@ConvergenceTR) April 22, 2019
The Fear
As of today, Luminary is a routine podcatcher that presents "hundreds of thousands" of shows, and offers a premium subscription for a handful of original, ad-free programs laced with celebrity names. Interesting, but no tectonic disruption at launch.
So why the angst? Two reasons to start. First, the "Netflix of podcasting" tag which was self-applied by the company. Second, Luminary's $100-million venture funding. Those two high-publicity factors created an impression of an impending juggernaut which sought to funnel hoards of new podcast listeners into a walled-garden pay service, setting the stage for a collapse of an ad-driven, free-to-listen media category.
There's more to it than that. Luminary does represent a new podcast startup model whose leverage is based on original content. Other "premium podcast" paywalls have existed for years, but they have sprung out of existing traditional podcast distribution formats. Luminary's capitalization rationale and run-up rhetoric are wholly based on consumers paying for an ad-free walled garden of shows, many of them original productions and others pulled out of the open podcast universe.
The Product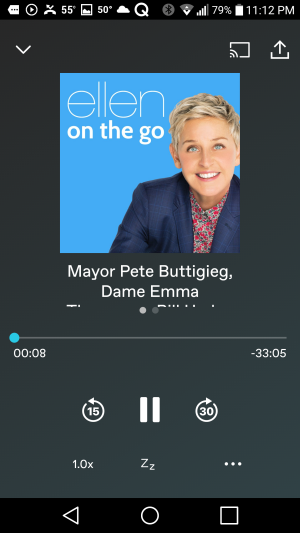 The product strategy has broadened into what we have today. Luminary is plainly a basic podcatcher, layered over with a premium option for original content. To our eyes (and ears), Luminary is a Stitcher-style newcomer with a less developed user experience, higher premium price, and scaled-up content creation goals. The comparison isn't exact. Stitcher has one marquee original show — Wolverine, co-produced with Marvel Comics and launched last March. (Stitcher isn't the only podcast app with a premium subscription option: PodcastOne is well down that road also, featuring "bonus content" rather than original exclusives. Audible trod that path too, before, um, ditching its podcast creation division.)
The inaugural version of Luminary includes some, but not all, of 40 planned original Premium shows. Luminary might be many things, and might become many more, but today's launch version is not a threat to podcasting as a whole. Disruption, if any, lies ahead, and depends on the company's creative savvy and investment in original production.
In the meantime, tire-kicking users can consider an $8 monthly price. (Stitcher and PodcastOne are $5/month, as was Audible Channels.) On the value side, Luminary is building an ambitious portfolio of shows in its Netflix-like quest and pulling in the glitter of stardom: Glenn Close, Trevor Noah, Lena Dunham, and others.
Stumbles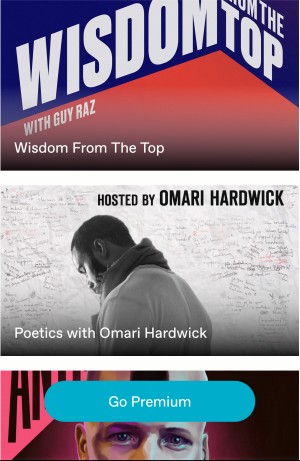 As the celebrity catalog fills out, Luminary is dealing with perceptual injuries, one of which is self-inflicted. Last month a promotion stated: "Podcasts don't need ads." That was obviously offensive to the genre and its listeners, many of whom love the traditionally clubby and personal style of podcast sponsorships. (When Stitcher launched its ad-free Premium option, an executive at parent company Scripps told RAIN News about subscribers complaining that the ads were missing.) The tone-deaf promo made Luminary seem like an invading company of newbies, not a crew steeped in podcasting values. CEO Matt Sacks, who owned up to the mistake, comes from a background of investment banking and venture capital, and also led Splash.FM for a couple of years.
Luminary is also pricked by arrows fired by competitors: both Spotify and The New York Times (producer of The Daily, the most successful show in the Podtrac industry ranker) have restricted Luminary from using feeds which include all of Spotify-owned networks Gimlet, Anchor, and Parcast, and The Daily. Those maneuvers might represent an astonishing hostility and intent to injure. (See today's Hot Pod for a gentler interpretation.)
The Future
The launch turmoil could be a passing storm. In our view, whether Luminary scales an audience and justifies its capitalization depends on its hit-making ability. Many observers have thought that podcasting needs a second "Serial moment" to jolt a new class of newcomers into the audience. If Luminary produces that chimeric program behind a pay-to-listen gate, it could alter the trajectory of the podcasting business.
In that scenario, what would stop Netflix from noticing Luminary and starting its own audio division? (Recall when SoundCloud called itself "the YouTube of Audio" (2014) and Google started YouTube Music (2015).) Speculative scenarios like that are giving the frights to defenders of podcasting's traditional open distribution.
Interesting times, as the expensive Luminary experiment is finally put into play.